I apparently have
a thing
for
Canada Day
. (And
Canada
!)
I also, unbeknown to however many faithful blog readers I have, like Google's special search images. They've ranged from cute to fascinating in the past.
Today, it's this: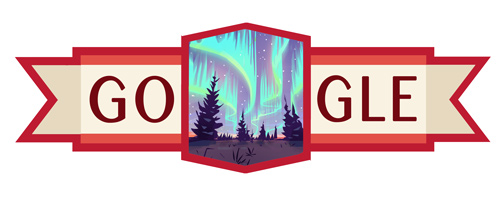 (I'd cite this image as being from Google, but that would just be stating the obvious, wouldn't it?)
I've sadly never seen the Northern Lights despite
having lived in Edmonton
. I love the red and white banner, the animation is great, and those colours really shine through.
This September will also mark the 950th anniversary of the Battle of Hastings. I can't imagine that'll be as
widely celebrated
, though.